<< Back to SDOH Data Workshop Home
Presenting Sponsors: Sarah Wiehe & Peter Embí (IU, Regenstrief, Indiana CTSI)
Emcee: Darshan Shah (Biocrossroads)
Day 1 – Presentation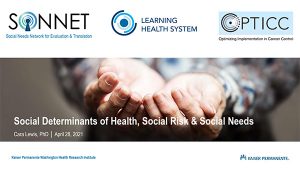 Kaiser Permanente Washington Health Research Institute – Cara Lewis
On Day 1, the workshop kicked off with a presentations from Indiana-based initiatives related to SDOH. Following these presentations, Cara Lewis with Kaiser Permanente to inspire attendees on new ideas and insights on university health screenings, community engagement, financing and oversight.
Day 1 – Use Cases on Indiana-based Initiatives
Presenters: Waldo Mikels-Carrasco (IHIE); Salvador Muñoz (CHIP); Josie Fasdolt (MPH)
Monon Collaborative Homeless Transitions-of-Care – A pilot program initiated by Indiana CTSI working with homeless and housing services agencies, healthcare providers, the state's health information exchange, Medicaid MCEs, and state agencies to improve service coordination for housing-insecure individuals through timely, efficient, and comprehensive care. 
Presenters: Karen Comer (POLIS Center) and Umberto Tachinardi, (IU, Regenstrief Institute)
A pilot program integrating community and clinical data to support research on social and structural determinants of COVID-19 risks and outcomes. Lessons from this pilot will inform the potential for broader integration of community and clinical data.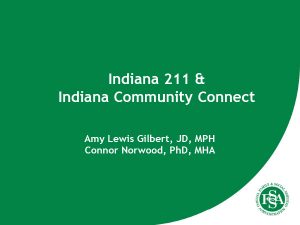 IN-211, Indiana Community Connect
Presenters: Amy Gilbert and Connor Norwood (FSSA)
An initiative led by the Indiana Family and Social Services Administration (FSSA) to help community organizations with a resource directory navigation tool and client referral management system.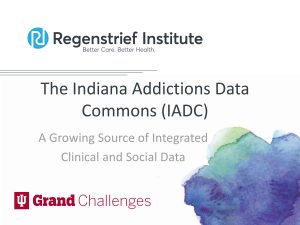 Indiana Addictions Data Commons
Presenters: Shaun Grannis, Josh Vest, Brian Dixon, Dan Hood, (IU, Regenstrief)
An initiative led by the Regenstrief Institute to enable access to clinical and non-clinical (i.e., SDoH) data from around the state to attack the opioid epidemic.